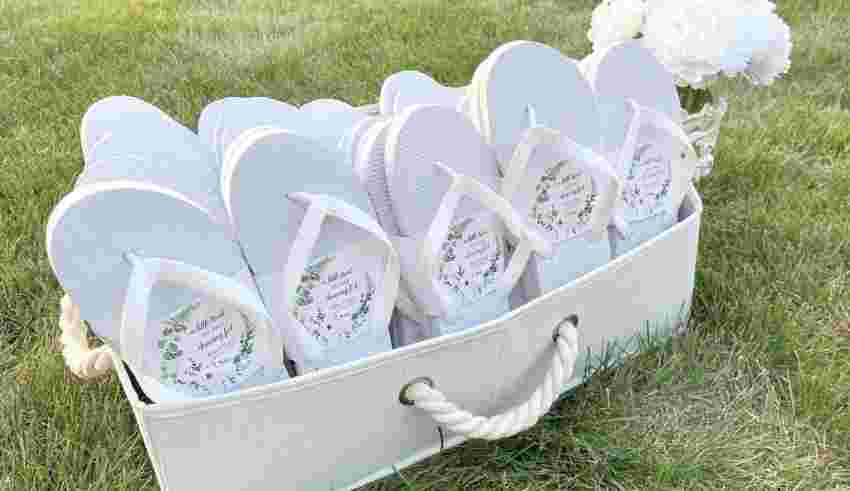 At every party, wedding, or special occasion you have to keep wearing shoes for a long time because of which your feet may get tired. In this situation, Flip Flops can give you a break from wearing shoes and can provide comfort to your feet. This pair of footwear plays an important role in wedding receptions where the guests are usually found roaming here and there in bare feet. You can take good care of your guests by providing them with comfortable pair of Flip Flops. People often make this arrangementbefore any such occasion by ordering bulk white Flip Flops in advance for their guests.
Why are Flip Flops becoming so popular?
They are a must in everyone's footwear collection but have you ever thought of purchasing them in bulk for a special event? If notthen you should, as they have many benefits.
In the wedding venue, each space is covered with food, decoration, and music arrangementsand there are many non-foot friendly surfaces also. The guests at your wedding or your family members can accidentally walk on such unseen hazardous surfaces as a spilled drink, broken glasses, gravel driveways, etc. Many accidents can also happen on such occasions where your guests will need the help of comfortable footwear. You can make an excellent wedding favor on them by presenting them with one such pair of footwear each. They will become thrilled to kick off their shoes and slip into the flip flops.
From where can you buy white flip flops in bulk?
Many online websites or stores can provide you with well-made white flip flops in bulk. These are usually made with high-density rubber and come with enhanced resistance along with dimensional stability in many unique as well as custom designs. The stores make this footwear available to you in different sizes- small, medium, and large, based on a study. With the help of this, the majority of your guests will be able to find the right size for themselves. Many such stores also give elegant cards attached to the flip flops along with a beautiful bag with each pairso that you can beautifully present them to your guests. If you are making a bulk purchase then there is a high possibility of discount offers.
They are great for every event like functions or parties and not just weddings as people can comfortably dance and enjoy the night away. White-colored flip flops are more popular because white is an evergreencolor and at the same time it can easily complement any wedding décor, this makes it a great choice for all seasons.