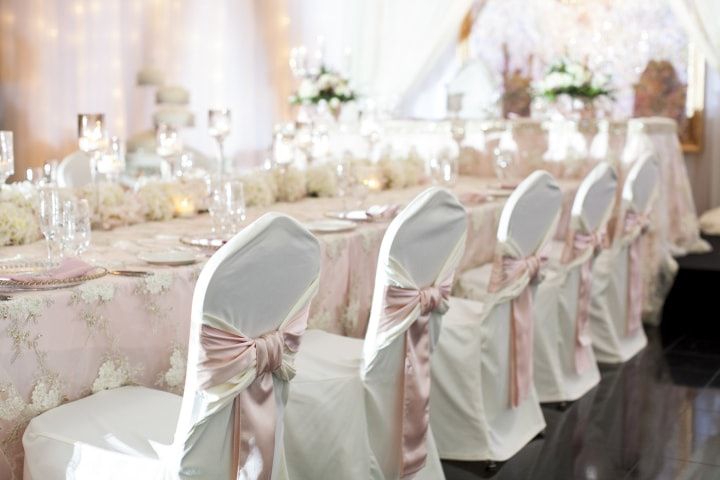 Planning a wedding (or other significant occasion) can be exhilarating and overwhelming. There is much to think about and plan; doing it alone without adequate support can be challenging. How many wedding tablecloths you'll need, their size, and drop are just a few things to consider. Here are the most crucial elements when selecting tablecloths for your wedding.
Consider your wedding theme.
Consider your wedding theme when choosing tablecloths for the event. The decision on a wedding theme can be both challenging and exciting. Many possibilities are available, and each can be combined to create a theme fusion.
The endless possibilities range from glitzy and conventional to bohemian and rustic. However, choosing your theme is a crucial step you'll often attempt to do early.
Your choice of color scheme
Your theme will frequently have a big impact on your color choices. As a result, your color scheme and, consequently, your decor will mirror your chosen theme. For instance, a rustic wedding theme could favor greenery over vibrantly colored flowers.
That might require softer tones, though not always neutral ones. For instance, a dusty pink or sage green tablecloth may serve as your base, and you could add a touch of extravagance with velvet napkins, which come in eye-catching Emerald, Mustard, Navy, Mulberry, and Marshmellow hues.
What types of materials are available?
The most crucial consideration when purchasing table linen is the material. Keep in mind that different occasions and events require different materials. If you anticipate many food spills, especially with tough meals, you should consider a resilient material that doesn't fade or lose its texture with repeated washings. Given the wide variety of materials you can select from, we've outlined some of your alternatives.
Polyester
The stylish polypremier tablecloths are a popular choice for weddings and events due to their affordable price and linen-like quality. Polyester tablecloths can be used for indoor and outdoor events because they are synthetic and, therefore, more durable than other materials.
Satin
A satin tablecloth will undoubtedly give an event a touch of glitz and refinement. It's trendy at weddings and other special occasions when you want a statement look because of its sparkly, silky-soft texture.
Sequins
These highly reflective sequin fabrics are available in various shapes, sizes, and hues. This is a fantastic choice if you want to showcase essential tables at a wedding, such as the cake table, in a high-end, sparkly way.
Incorporate table accessories
It's time to consider other table accessories like table runners, overlays, and napkins once you've chosen the color and fabric of your wedding event tablecloths. Depending on the occasion and design, you should add a statement table runner or an overlay to a buffet table. All of these table linen components will contribute to giving your guests a lovely, seamless experience. Polyester napkins are a standard option, but if you want a more elegant appearance, consider using satin or even L'amour napkins.
The bottom line
Remember your wedding theme and color pallet when choosing tablecloths for the event to ensure everything is coherent.